Moeno from Japan
- College of Global Liberal Arts (GLA), 4th year
- Scholarships Received:
Ritsumeikan University Alumni Association Future Human Resources Development Scholarship
College of Global Liberal Arts Scholarship for Study Abroad
Ritsumeikan University Study Abroad Challenge Scholarship
- Graduated High School: Ritsumeikan Uji High School
---
Why did you select RU and the College of Global Liberal Arts (GLA)?
I was attracted to the dual degree program with the Australian National University, ANU. Also, since more than half of the students are from various countries and diverse backgrounds, I expected to broaden my world view and values through interaction with such people. I was also very interested in the content of the classes themselves, as they all provided me with completely new insights.
About your studies...
Give us an overview of your studies and course schedule from the 1st year to now.
First year: Most of the classes are required, and elective classes were either "Fundamentals of Philosophy" or "Programming." I had to take four courses per semester and took "Knowledge and Innovation", "iGLA", "Research Design and Research Methods", and "Philosophy Basis" in the first semester. In the second semester, I took "Statistics", "iGLA", "Cultural Studies", and "Civilizations in World History".
Second year: ANU classes started. Two ANU classes are required, so you can't choose them. For ANU classes, I had to take "The Origin of Political Order in Asia" and "Understanding Peace and Conflict" in the first semester. At RU, I could choose from many different types of courses, such as "Contemporary World History", "Media Theory", "Art History", "Japanese Philosophy", and "Design and Society". It was great to be able to take a variety of courses that interested me.
Third year: I took a full load of classes at ANU. I had planned to go to Australia to study at ANU, but due to COVID-19, I had to study online. For the ANU courses, I took "International Relations in the Asia Pacific", "Japanese Foreign and Security Policy", and "Pacific Studies in a Globalizing World". It was especially interesting to study Japanese politics and history from a different perspective. However, all the classes were difficult for me because the ANU students were of a high level and actively participated in class discussions.
Fourth year: Two required ANU courses and two research seminars. For my thesis, I explored the themes of "similarities and differences between J-pop and K-pop idols" and "the effects of positive and negative words on plant growth".
Overall, there were no major changes in my interests in classes over the four years, and I took more and more courses that I was attracted to or that seemed interesting.
Find out more about courses at the College of Global Liberal Arts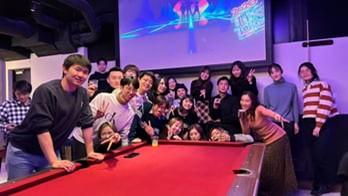 GLA Year-End Party 
How are your relationships with your supervisor, classmates, and lab members? 
GLA is a college with a large focus on active learning, so the class sizes are small. Because of this, students are very close to their professors, who are always available to answer questions in a friendly manner. Also, you can easily make friends on campus through group work, tutorials, and even in G-House (the GLA dormitory).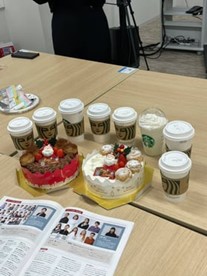 Semi-party  
This program is designed for study at our partner university, ANU. How do you think this experience affects your life/future career?
In GLA, you will have opportunities to take ANU classes and visit Australia. This will definitely give you a great learning experience at ANU, as ANU students are academically motivated, and the classes are well-designed and unique to Australia.  
Many ANU students had a clear idea of what they wanted to study in university and what they were taking classes for. Some of them wanted to become diplomats, so their motivation towards their studies was very high, which impressed me. This will widen your perspective of the world and give you new insights.
Also, having a degree from both ANU and RU will widen your future choices, too.  
One of RU's courses was "Play and Playfulness," and the class had a profound impact on my life values and way of thinking. The class was a study of the definition of "play" from a philosophical perspective, and I learned about many different ways of thinking. One of the most impressive ones was that "play" is something we do for the simple reason that it is just fun or that we like it, and that it is about living in the moment.
Also, the part that convinced me was that in life, we often do things now for the sake of one future (doing A for the sake of B), but it is important to strike a balance between actions motivated by simple reason and actions for the future.  
Find out more about dual degree program
…
Message for readers:
"I hope that you focus on what you like to do and what excites you, and when in doubt, choose "the fun way" to have a fulfilling and enjoyable student life."
Read the full interview here:
<2022048>
"If you like this post, please click "Like" on our Facebook Page. We will inform you about our events and seminars. "