Marina from Japan
College of International Relations, Global Studies Major (GS), 2nd Year
Graduated High School: Ritsumeikan Moriyama High School
---
Why did you choose Global Studies at RU?
When I was in high school, my teacher told me about a place where I could study International Relations only in English, which is the Global Studies (GS) Major. Since junior high school, my goal had been to major in international relations at university, so I decided to go to GS because I had a yearning to study only in English and felt that it would certainly be a step-up for me, having grown up in Japan all my life.
The number of students is definitely smaller than in the International Relations (IR) Major, and I find it attractive to have a diverse group of students from different backgrounds/countries. I think GS is the only place where Japanese who grew up in Japan can be a minority, and I love the free atmosphere where no one denies the past or the future for each other.
Give us an overview of your studies and course schedule from the 1st year to now.
I remember that in my first year, the main focus was on essay writing, required classes that were based on our future studies, and second language classes. During our second year, the second language became an elective, and I chose to keep learning French. From the third year, the main focus will be on professional studies and the second year is the time to create the foundation for that. I am taking a wide range of subjects such as Japanese Society and Culture, Law, Economics, Development Studies, and Security Studies etc.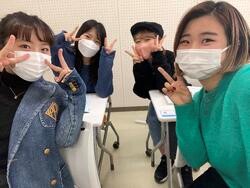 In French Class
How are your relationships with your supervisor and classmates?
Basically, in the GS Major there are supposed to be 50 Japanese nationals and 50 foreign nationals, for a total of 100 students in every year. However, to be honest, we do not know who belongs to which grade, since we mostly have discussions and get to know each other in various classes without formal greetings. Everyone is very friendly and no one cares about age. Professors are also willing to help us if we have any problems, and if we are stuck on topics for an essay, they will introduce resources which might be helpful.
If you have done "Global Simulation Gaming", which role/representative did you play? Could you share an episode?
I was the president of a media company in China for Global Simulation Gaming (GSG). We analyzed how the world operates, what kind of mindset we should have when negotiating with other countries, what kind of process treaties are concluded through, and how the division of roles in each country and company is structured. I feel that we were able to fulfill our mission as media actors in China.
Find out more about Global Simulation Gaming (GSG)
…
Message for readers:
"No matter what your backgrounds are, RU and GS are where you can expand your possibilities. Even though I grew up in Japan and was educated and raised in Japan, the GS Major has helped me recognize a new me and my strengths. It's your turn!!! I look forward to being on campus with you!"
Read the full interview here:
<2022046>
"If you like this post, please click "Like" on our Facebook Page. We will inform you about our events and seminars. "