Hailee from Vietnam
College of Policy Science, CRPS Major, 3rd year student
Scholarship received: MEXT Scholarship
---
Did you have any concerns before coming to Japan?
I have never lived far from my family or gone abroad alone. When I was in high school, I was an introvert and was rather shy to make new friends, participate in activities, and try new things. Although I was in a Japanese specialized class, my Japanese was only good enough for simple communication, so I had a lot of worries and fears when I came to Japan. I was afraid that I would spend 4 years alone in university, without friends around or be unable to get along with friends because of cultural differences and get into many troubles in daily life because of the language barriers.
However, the support I received in the first few days of coming to Japan made my fears go away. The school office has orientation sessions to guide us through the necessary procedures when starting to live in Japan, and the Japanese Resident Mentors (RMs) in the dormitory always help us when needed and organize cultural exchange activities so that we can easily get along with each other and get acquainted with life in Japan. They made a very good first impression on me about Japan. 
Find out more information about Resident Mentors (RMs)
About your studies...
Give us an overview of your studies and course schedule from the 1st year to now.
During my first and second years, most of the courses I took were foundational courses in which I learned the skills required to undertake future research. Computing courses show us different methodologies in research and introduce tools for data analysis, such as the R language, while English for Academic Purposes (EAP) courses improve our academic writing and critical thinking skills in conducting research.
I also signed up for several Japanese language courses, in which I studied Japanese history and society, and learned how to write academic essays in Japanese.
I also took a number of introductory courses on urban development, culture, law, and human rights, as they are my interests. Since my third year, I started my seminar courses. Currently, my topic is more focused on law and human behavior, therefore, in the future, I will enroll in some courses related to behavioral theories, regulations, and strengthening my data analysis skills. 
Find out more about courses of the CRPS Major
How are your relationships with your supervisor, classmates, and lab members?
One of the great things about the CRPS Major is that students can choose any subject they like without being forced to take it in order or by their year, so there are lots of courses that I take with my senpai and kouhai. Even though we are from different cultures, everyone is so supportive and friendly. Of course, sometimes we have disagreements on some issues, but we resolve them peacefully and get to know each other better afterwards.
I have also met many wonderful professors who not only help us with our studies in school but are also always willing to assist us in our daily problems.
Not my story, but one of my senpai got a lot of support from her professor when she was looking for an apartment in Japan since her Japanese was not good enough to handle the complicated procedures. I still keep in touch with some professors even after completing their courses, or even after they have already left Ritsumeikan; they are also willing to give me useful advice whenever I need it.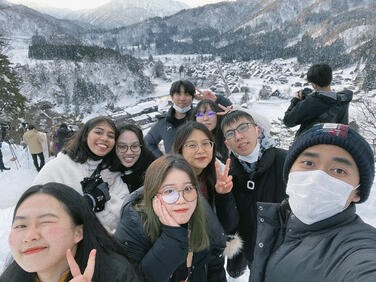 A trip to Shirakawa-go with friends from CRPS
…
Message in English
Changing living and learning environments is a great opportunity to develop yourself and expand your network. Going beyond your limits to see your potential is limitless. Do your best or you will regret it!
Read the full interview here:
"If you like this post, please click "Like" on our Facebook Page. We will inform you about our events and seminars. "
<2022034>