Se Rin from Korea
Graduated from the Community and Regional Policy Studies Major (CRPS) at the College of Policy Science, class of 2022
Scholarships Received: Tuition Reduction Scholarship, JASSO, Saionji Memorial Scholarship
---
Why did you select RU and the CRPS Major?
 When I was a middle school student, I had an opportunity to stay in the U.S. with my family for about a year. During that time, I was able to learn English and realized that I feel more comfortable in an international atmosphere. Based on this experience, I wanted to study abroad during my university life, but did not want to stay far away from my family. RU was a perfect choice since it provides English-based programs and RU is also located near Korea. In addition, I thought I could learn about new fields that I had never experienced since I was a science major student during high school.
How are your relationships with your supervisor, classmates, and lab members?
My supervisor, Professor Kanegae, was in charge of the On-site Research Oregon Project and this was how I got to know him. He took care of students with interest and gave me useful advice when my team had to write a report after conducting research in Portland, Oregon. This aspect of the professor also had a lot of influence when I chose the seminar.
Even though the first semester of the seminar was conducted online due to COVID-19, we had an online gathering altogether to get to know each other. It was a fun and unique experience to have because it was the first time for me to talk about things that are not related to the seminar or class to the professor.
Furthermore, he gave me great support when I was applying to graduate school. He gave me advice on how to write a statement of purpose that can make me stand out, and also gave me mental support when I had anxiety during the process. Having a great relationship with my supervisor helped me a lot not only in my studies but also in my daily life in Japan.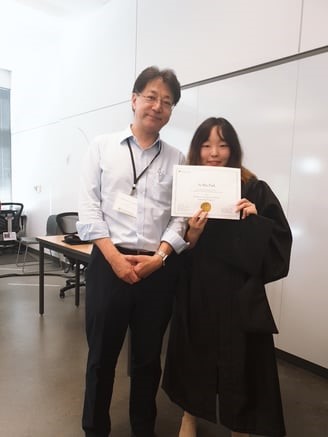 With Professor Kanegae at Portland during the Oregon Project
Find out more about the CRPS on-site Research Project
What is your career plan and goal/dream after graduating from RU? 
For now (this was written in 2022), my plan after graduating from RU is to continue studying at graduate school. I got accepted to the Technology Management, Economics and Policy Program (TEMEP) at Seoul National University and the International Program in Public Economics at Kyushu University.
I decided to go to Seoul National University so that I can spend more time with my family since I missed them so much during the last 4 years when I had to leave them behind. In addition, based on what I have learned in Japan and RU, I will be able to grow further by learning about new fields and conducting research in Korea. In particular, the international thoughts and background experienced in RU will help me to proceed with my studies with an objective perspective.
Find out more about CRPS Alumni Carrier Paths
Message in English:
"Don't be afraid to take on a new challenge, and I hope you can move forward toward your dream."
Read the full interview here:
<2022041>
"If you like this post, please click "Like" on our Facebook Page. We will inform you about our events and seminars. "