Study in Japan and Australia!
Meet the Professor Session (Online, Free)
Dr. Eugene Choi - Professor/ Associate Dean, College of Global Liberal Arts (Ph.D., M.Phil., University of Cambridge, MBA, CASS Business School, University of London)
College of Global Liberal Arts, Online Information Session
DUAL DEGREE PROGRAM with The Australian National University(ANU)
(MMT) 14:30 - 16:00, October 3rd, 2020
(ICT) 15:00 - 16:30, October 3rd, 2020
The College of Global Liberal Arts was created in collaboration with the Coral Bell School of Asia Pacific Affairs at ANU, which is a School ranked 8th in QS Rankings 2020 in the field of Politics and International Studies.
4 Year undergraduate program, leading to two BAs offered by RU and the ANU
Classes conducted in English and no Japanese required for admissions (You will have the opportunity to study Japanese after enrollment.)
3 years in Japan (Osaka) and 1 year in Australia (Canberra)
On-campus accommodation
In this session, Professor Choi and International Admissions Officer will together introduce the highlights of this flagship program. Join the webinar and find out what we have to offer!
*This session will be conducted in English.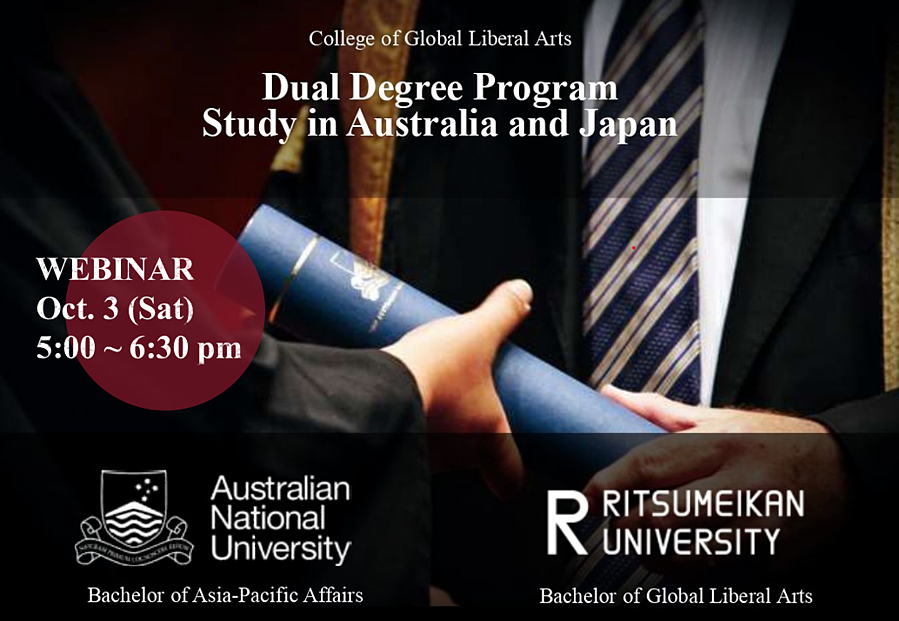 Fill in the registration form below and save your slot!

"If you like this post, please click "Like" on our Facebook Page. We will inform you about our events and seminars. "
<2020023>